I spent three seasons with the Arizona Rattlers in their Media Relations Department. I spent two seasons as the Communications Coordinator, and one season as the Director of Communications and Community Relations. My duties included preparing press releases, setting up interviews and news conferences, writing the media guide, and maintaining the team's official website. I also filled in on the radio broadcasts as the Color Commentator, and was a fill-in host for the weekly talk show. We reached the ArenaBowl in 2003 and 2004, but fell short twice.
During the 2004 Playoffs, I did voice-over work for the radio spots. Click below to hear the commercials.
For 2005, I again voiced the radio spots, and served as the Public Address Announcer.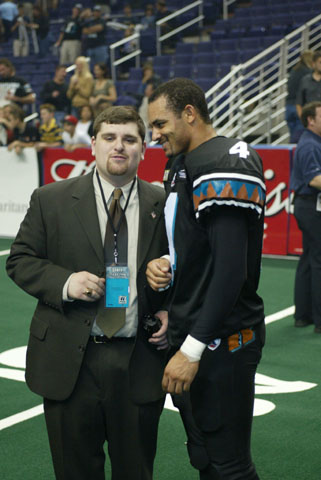 Rattlers WR/DB Orshawante Bryant and I
Click here to visit the Official Site of the Arizona Rattlers.